Want to send your map or directions to yourself or a friend? No problem!
In the map tools, click the Share icon next to the zoom and traffic icons (you'll also see a Share link under the MapQuest logo in the left-panel on some pages).
From there, you can choose to send your map/directions via text or email or copy/paste a short URL link.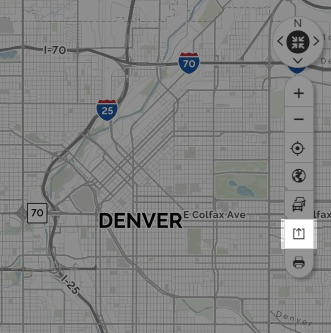 Open your MapQuest route with our free smartphone app!
It's never been easier to plan your trip on your computer and then send the route to your smartphone for on-the-go GPS guidance!
After receiving your text from MapQuest.com, you can open your map or route using the MapQuest app to receive voice-guided, turn-by-turn directions!
If your text message from MapQuest isn't received:
If after using our "Send to Mobile" feature you find that the recipient has not received the message, chances are...
You sent a text to a mobile number on a network that does not support mobile AOL services. See our full list of supported carriers.
The recipient previously blocked incoming text messages from AOL. If you think this may be the case, please text "ON" to 265265 and try again. (Text "ON" to 265005 if you are on T-Mobile or Verizon networks)
Please note: If more than 72 hours has passed since a text was sent/received, the Aol SMS service that powers MapQuest's "Send to Mobile" feature may not be able to identify the specific session you're trying to turn "ON." To work around this, you can try sending a text to 265265 (or 265005 for Verizon/T-Mobile) with the phrase "ONALL" to enable all AOL SMS services on the device.